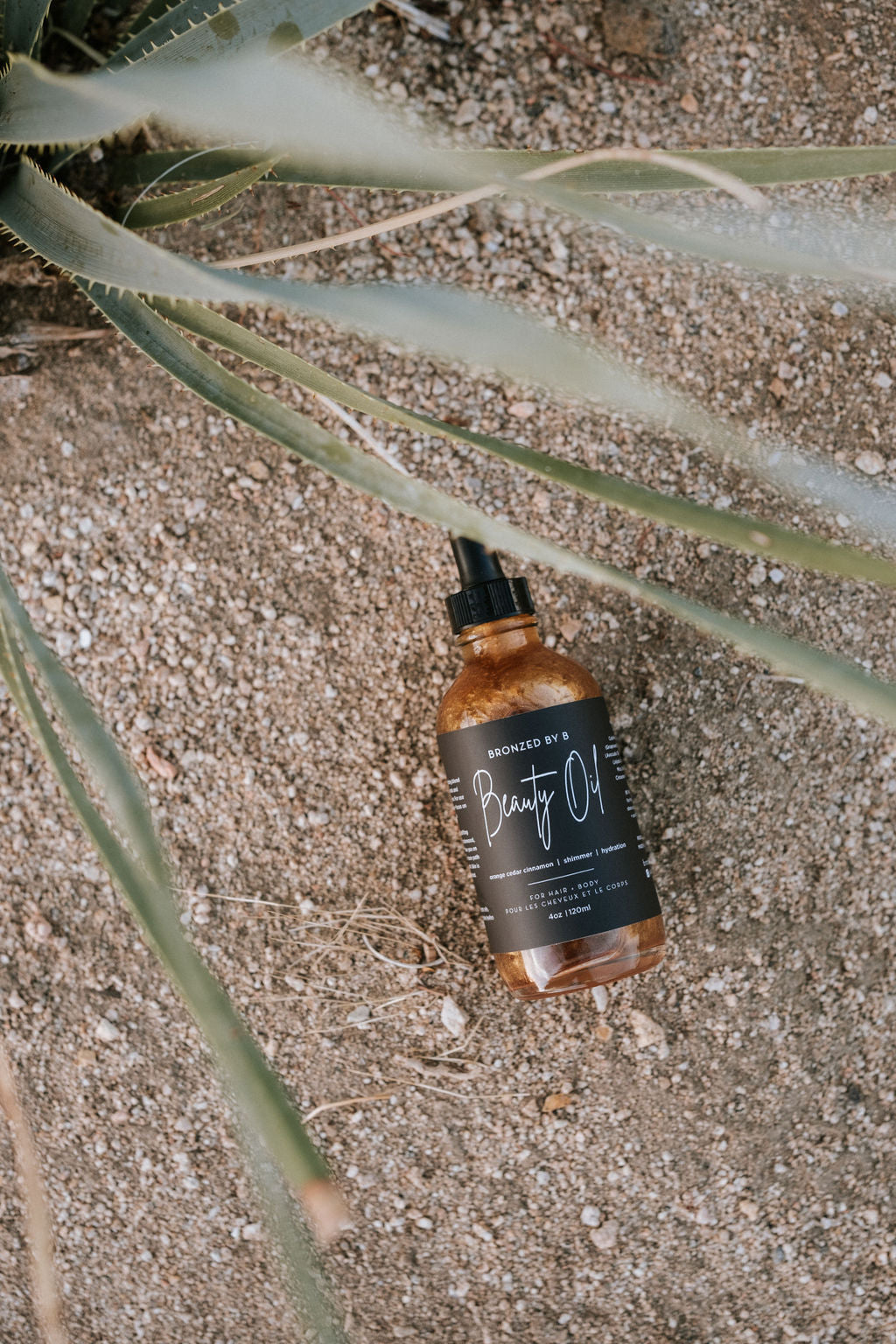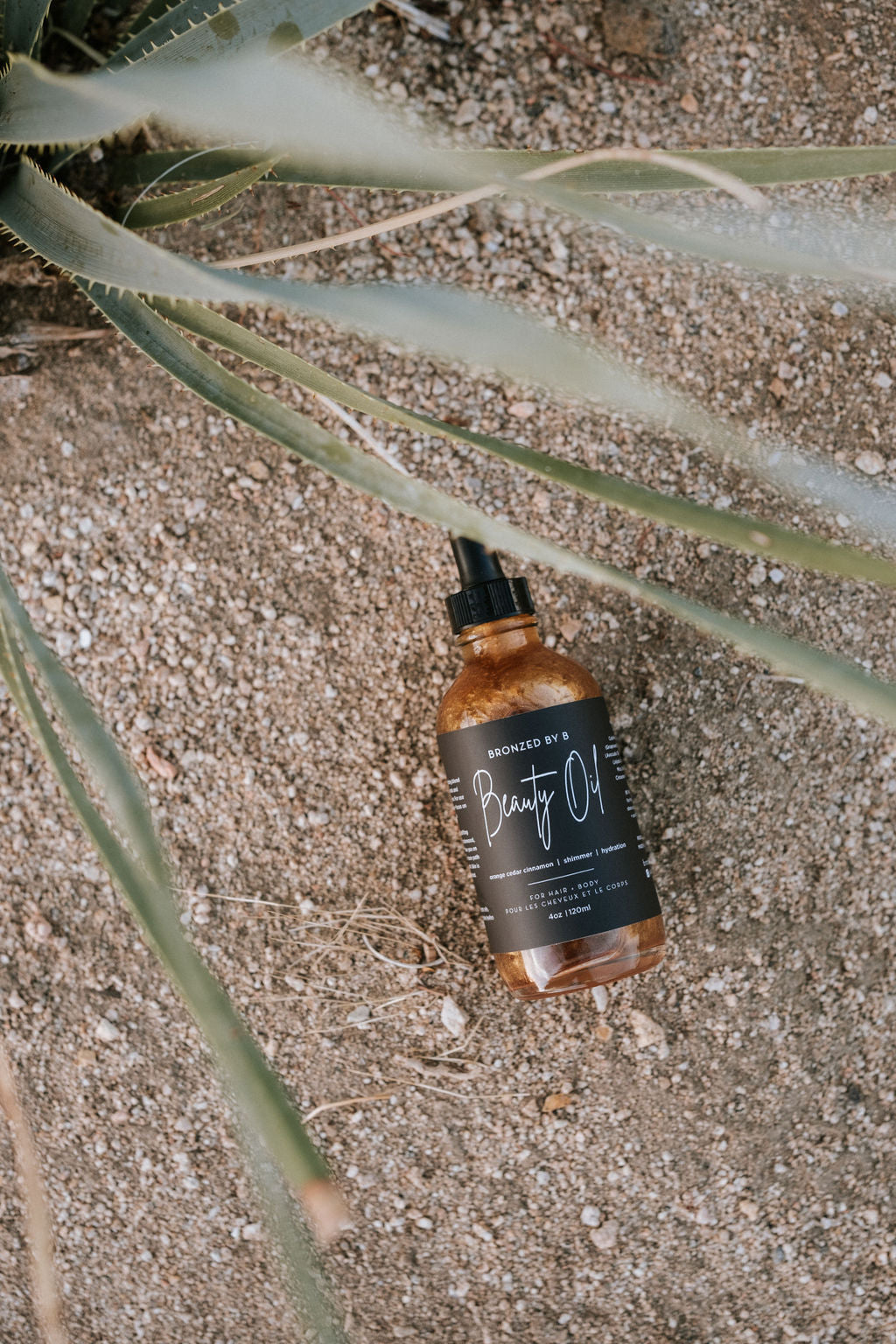 Beauty Oil
Regular price
Sale price
$18.77 USD
Unit price
per
BLACK FRIDAY SURPRISE *select scents available - celebrate the cooler months by nourishing your skin + giving it the extra love it needs and deserves! 
Dry/dull skin? Spilt ends/flyaways? Dry cuticles? Don't worry. You have found your new *can't live without* multi-tasking oil, thank me later! 
Think you need to sacrifice luxury because of harsh ingredients? Not here babe! Vegan and luxury can coexist and darling ... they do. Oh do they EVER.
In this bottle you will find: A deeply hydrating blend of oils chosen for their ability to hydrate, smooth, reverse environmental damage and keep skin and hair youthful. Suitable for body and hair use. 100% vegan, cruelty and paraben-free. A true ode to luxury you can feel good about using. The oils mimic our skin's natural oils and acts as a true, long-lasting hydrator. 
As the oils melt in, you are left nourished and glowing.
Winter formula features Hemp Seed, Jojoba, Avocado, and Grapeseed oils. 
Available in shimmering caramel golden mica or matte!

Sensual Amore  *Essential Oil Blend - the realm of masculine + feminine blur for the ultimate ode to love in all forms. Instant feelings of euphoria follow.
Sensual rose geranium blends with grounding patchouli, sweet orange, neroli, and something secret round out this incredible scent.
Vanilla Cashmere *Luxury Fragrance Oil - Cozy, elegant cashmere blends with rich, indulgent vanilla bean to warm up those cool days and light a fire in your soul. 
Grapefruit + Mint *Essential Oil Blend - Uplifting grapefruit and tantalizing mint are a match made in wellness heaven. Let your mind wander to a peaceful place in a garden of fresh air and live life in pure bliss - if only for a moment.
Winter Woods *Essential Oil Blend - Refreshing, yet grounding - this blend of cypress, frankincense, cedarwood, and peppermint will boost your mood like a walk in the woods with fresh sparkling snow falling lightly to the ground. Comfort your senses and enjoy the changing season. 
Jamaican Vanilla Latte *Luxury Fragrance Oil - This tempting harmony of rich roasted espresso and decadent vanilla bean will indulge your senses. You are left sweeter than ever.
 4oz Amber Glass Bottle with Dropper Style Top. 
*Concerned about allergies? Message me directly to discuss!
Return & Refund Policy

Given the fresh + personal nature of our products. We do not accept returns. If you are dissatsified with your product - please contact us directly so we can help!
Shipping Info

Shipping and local pick up options available. Shipping times vary, however we work quickly and keep you informed along the way. Looking for a quick turn around? Contact directly to ensure we are able to accomodate.
Share